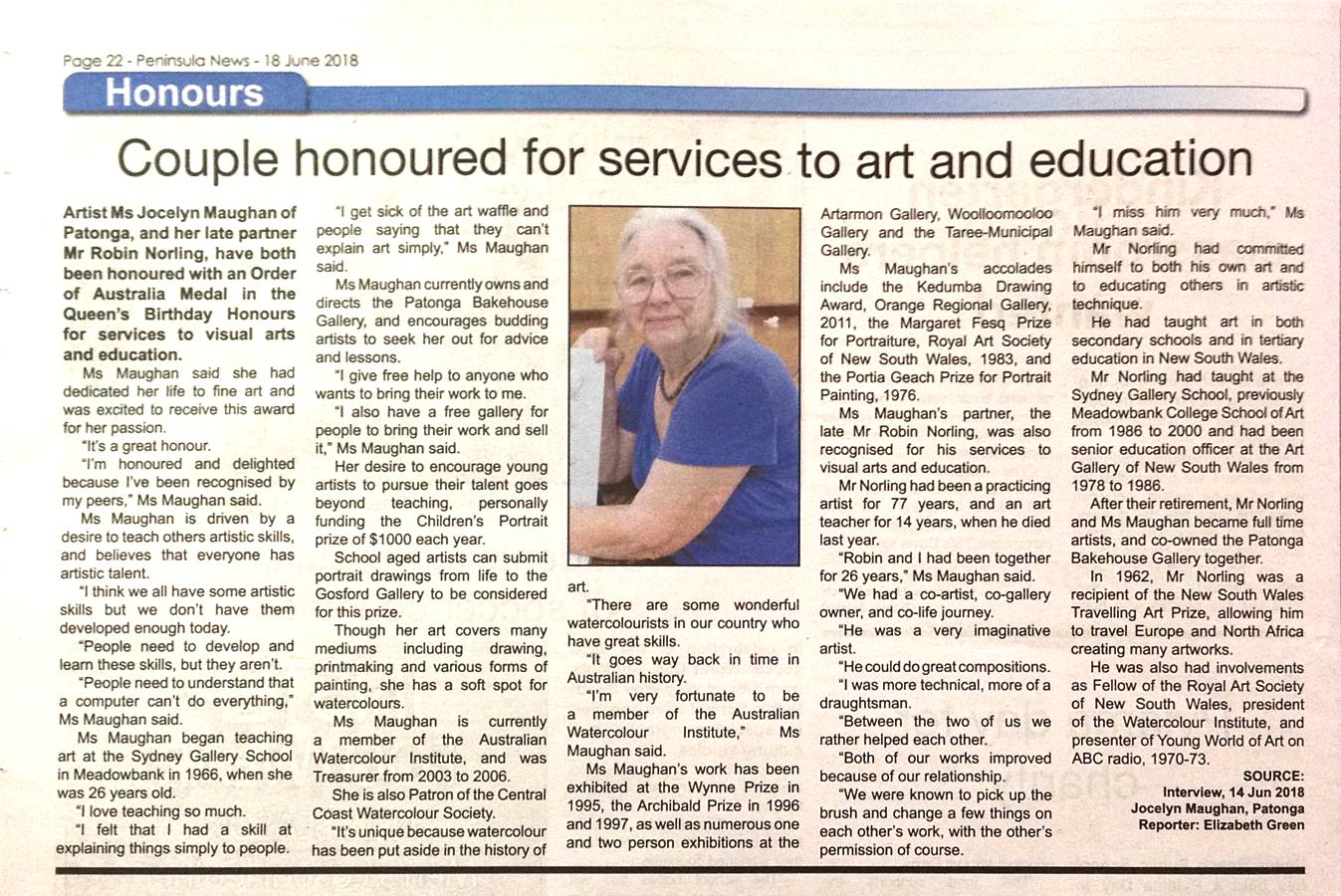 The above article appeared in the 18 June 2018 edition of The Peninsula News. The text of the article appears below.
Couple honoured for services to art and education
Artist Ms Jocelyn Maughan of Patonga, and her late partner Mr Robin Norling, have both been honoured with an Order of Australia Medal in the Queen's Birthday Honours for services to visual arts and education.
Ms Maughan said she had dedicated her life to fine art and was excited to receive this award for her passion.
"It's a great honour.
"I'm honoured and delighted because I've been recognised by my peers," Ms Maughan said.
Ms Maughan is driven by a desire to teach others artistic skills and believes that everyone has artistic talent.
"I think we all have some artistic skills but we don't have them developed enough today.
"People need to develop and team these skills but they aren't.
"People need to understand that a computer can't do everything," Ms Maughan said.
Ms Maughan began teaching art at the Sydney Gallery School in Meadowbank in 1966, when she was 26 years old.
"I love teaching so much.
"I felt that I had a skill at explaining things simply to people.
"I get sick of the art waffle and people saying that they can't explain art simply," Ms Maughan said.
Ms Maughan currently owns and directs the Patonga Bakehouse Gallery, and encourages budding artists to seek her out for advice and lessons.
"I give free help to anyone who wants to bring their work to me.
"I also have a free gallery for people to bring their work and sell it," Ms Maughan said.
Her desire to encourage young artists to pursue their talent goes beyond teaching, personally funding the Children's Portrait prize of $1000 each year.
School aged artists can submit portrait drawings from life to the Gosford Gallery to be considered for this prize.
Though her art covers many mediums including drawing, printmaking and various forms of painting, she has a soft spot for watercolours.
Ms Maughan is currently a member of the Australian Watercolour Institute, and was Treasurer from 2003 to 2006.
She is also Patron of the Central Coast Watercolour Society.
"It's unique because watercolour has been put aside in the history of art.
"There are some wonderful watercolourists in our country who have great skills.
"It goes way back in time in Australian history.
"I'm very fortunate to be a member of the Australian Watercolour Institute," Ms Maughan said.
Ms Maughan's work has been exhibited at the Wynne Prize in 1995, the Archibald Prize in 1996 and 1997, as well as numerous one and two person exhibitions at the Artarmon Gallery, Woolloomooloo Gallery and the Taree Municipal Gallery.
Ms Maughan's accolades include the Kedumba Drawing Award, Orange Regional Gallery, 2011, the Margaret Fesq Prize for Portraiture, Royal Art Society of New South Wales, 1983, and the Portia Geach Prize for Portrait Painting, 1976.
Ms Maughan's partner, the late Mr Robin Norling, was also recognised for his services to visual arts and education.
Mr Norling had been a practising artist for 77 [sic] years, and an art teacher for 14 years when he died last year.
"Robin and I had been together for 26 years," Ms Maughan said.
"We had a co-artist, co-gallery owner, and co-life journey.
"He was a very imaginative artist.
"He could do great compositions.
"I was more technical, more of a draughtsman.
"Between the two of us we rather helped each other.
"Both of our works improved because of our relationship.
"We were known to pick up the brush and change a few things on each other's work, with the other's permission of course.
"I miss him very much," Ms Maughan said.
Mr Norling had committed himself to both his own art and to educating others in artistic technique.
He had taught art in both secondary schools and in tertiary education in New South Wales.
Mr Norling had taught at the Sydney Gallery School, previously Meadowbank College School of Art, from 1986 to 2000 and had been senior education officer at the Art Gallery of New South Wales from 1978 to 1986.
After their retirement, Mr Norling and Ms Maughan became full time artists, and co-owned the Patonga Bakehouse Gallery together.
In 1962, Mr Norling was a recipient of the New South Wales Travelling Art Prize, allowing him to travel Europe and North Africa creating many artworks.
He was also had involvements as Fellow of the Royal Art Society of New South Wales, president of the Watercolour Institute, and presenter of Young World of Art on ABC radio, 1970–73.
SOURCE:
Interview, 14 Jun 2018
Jocelyn Maughan, Patonga
Reporter: Elizabeth Green